Festival de Bois
French Festival in Coquitlam, BC
February 27 to March 1 2015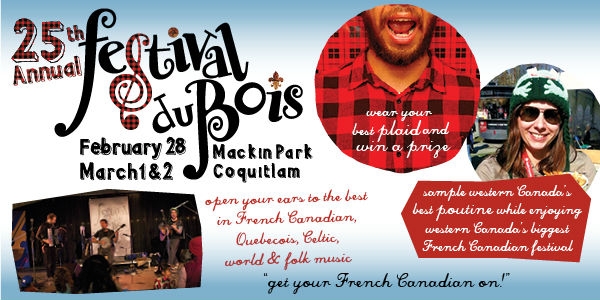 Festival du Bois, the largest francophone festival on Canada's West Coast.
There is a long French-Canadian pioneering heritage and logging-based history in Maillardville (bois means "wood"), reflected in the culture and strength of the community today – a vibrant and cosmopolitan centre with connections across Canada and beyond. This year's programming reflects it all and the festival is pleased to present an eclectic gathering of the finest Québécois, francophone, folk, world and roots artists performing today.
If you're new to our Festival or haven't been for a few years, we've created a little guide to enjoying Festival du Bois.
Over the weekend, audiences can expect to learn more about Maillardville and its village, participate in fun activities, bring back some souvenirs and maple syrup, and indulge the taste buds with delicious tourtière, maple taffy on snow, homemade poutine and other tasty francophone and world fare. Or you can just relax with a beverage and enjoy some great tunes!
We look forward to welcoming you at Mackin Park this March. As we always say, "plus on est de fous, plus on rit!!